Tools Construction and production of MENART Ltd.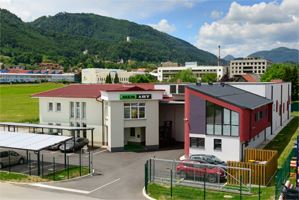 MENART KONSTRUIRANJE IN PROIZVODNJA ORODIJ D.O.O.
MENART D.O.O.
Poljska cesta 21,
3210 Slovenske konjice
E-pošta: menart@menart.net
Telefon: +386 (0)3 758 08 61
History:
Tools Construction and production of MENART Ltd. The MENART Ltd Company was founded in 1995. At the beginning we dealt with the mold treatment for glass industry as well as the production of smaller tool parts, like inserted pieces, electrodes and similar. Our services were provided by using the 4-axis milling machine of MAHO MH 800. At the turn of the millennium glass industry was affected by the crisis and we were forced to start to look for new products and services.
We decided to launch the production of thermoplastic and aluminium injection molding tool parts and to form sheet metal. Due to this change we faced with problems concerning our machinery which was not sufficient and no longer in use. Therefore, we invested in the purchase of a new CNC milling center and wire erosion to assure basic conditions for the new production in 1999 and 2000.
Our vision for the future was to be able to produce the whole range of injection molding tools. Following our vision we started to prepare the basic foundation for such an activity. The first condition was a sufficient working environment. Therefore, we built new business and production premises where we move in 2003. The next step was the software and hardware investment. Moreover, we had to hire more qualified stuff to achieve our goals. When we fulfilled all these conditions we were able to launch the construction and production of injection molding tools in full. As a matter of fact we oriented toward car industry tools and household appliances tools.
In the next years we invested a lot in our machining and software. Some 3-axis and 5-axis treatment centers as well as wire and sink erosions have been bought. In 2008 our own measurement hall with a 3 D measurement machine was erected. Due to bigger dimensions of our tools and therefore our machining we decided for the phase II of building a larger production business premises in 2011. One year later the new additional 650 m2 of production and 150 m2 of business premises were finished. Furthermore, the purchase of a larger drilling – milling machine was carried out and the production was equipped with new elevators.
Our company is now able to produce the whole range of injection molding tools up to 10 tons. However, our treatment machines can treat up to 5-ton pieces. In addition, dies for forging steel and aluminium are manufactured.
As every modern toolmaker we also concern ourselves about the development in the field of stuff training and improving working conditions of our employees.
We believe we are a trustful tool company as our effort is always directed to the quality and reaching our goals.